this photo was taken by me last week, I had to put my bifocals on just to see the image !!
now, OK, yes I did have make-up on.
however, I believe you can see that my skin is not too bad,
especially when one realizes there are no lines or wrinkles.
I'm going to go waaaay into detail about my skincare & makeup
applications, why I use what, etc.
this is the thing I'm most asked about when people meet me in person. everyone comments on my skin.
when I was 18 years old, reading Harper's Bazaar,
there was an article telling us that how we looked at
30 depended on what we did between 20 & 30.
that hit home
& since then I've always taken care of my skin,
I've tanned everything else but never my face.
& during this long period of time I've tried everything
from luxury products to drugstore products.
& yes, there is a difference.
the latest thing to emerge in skincare science is
stem cells.
we're now talking about women over 50,
but if you're younger & begin taking GOOD care of
your skin all will not be lost and the benefits compound.
I had a friend, a very eminent physician, explain how this works
deep within. it seems as we age the receptors surrounding our cells shrink, and unless something stimulates these receptors to regrow nothing we apply to our skin will make a difference.
anyway, now for my makeup regimen
I only use water-based products so they can be applied as thickly or thinly
as I like.
I am simply IN LOVE with the foundation.* I use Mont Blanc a fair shade, but there are many to choose from.
I also use NARS TONER, which my daughter, the SPA DEVELOPER, says is the best toner
Before anything though I apply NARS EYESHADOW BASE TO MY EYELIDS.
this stuff is like Elmer's Glue I think, it's white, drys clear, but has a slightly tacky feel to it.
no smudging, creasing or caking. I guarantee !
next comes the Jane Iredale Makeup Sponge, they cost $5.50 each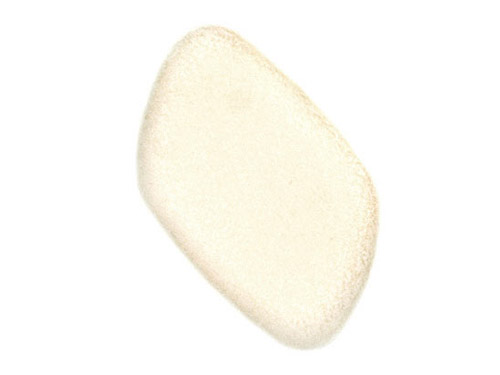 I rinse it under the faucet, then dry it in a washcloth so that it's not too wet. this is how I apply the foundation which is dispensed with a pump & a little goes a long way.
this product is so wonderful when you apply it under your eyes it eliminates the need for concealer,
and it's the SAME COLOR AS THE REST OF YOUR FACE, not OWL eyes like with a concealer.
once you've covered your entire face with the foundation, just leave it alone
& then begin on your eye shadows,
because I'm so fair I need a lot of eyeshadow, deep brown color called BENGALI
it's completely MATTE, HIGHLY PIGMENTED, easy to shade from dark to light
when applied with A WET EYESHADOW BRUSH.
again, it's water soluble so, again, you can put it on thick/dark or thin/light
I wear a color called "Bengazi" a dark brown (not this blue)
the eyeshadow will stay on for 2 days, even sleep in it, because of the eyeshadow base
I use a very light shade of brown, almost beige, above the dark brown BENGALI to contour,
then I apply BLACK eyeliner very thinly right at my lashline
sometimes I even wear false eyelashes, the little clumpettes.
again it's NARS because of it's high pigmentation a little goes a long long way, you will have to
test apply until you find the exact right amount for yourself.
this shade is called ORGASM, (I know!), but it is very special,

it has a bit of glistening to it, but I guarantee you it looks good on EVERYONE.

OR. you decide your shade




NEXT, THE BLURRING POWDER.

I love this stuff and I've never worn powder in my life.

but with foundation you need it, also it dims down the blusher shade a bit

apply over your entire face even under your eyes up next to your eyeliner on the bottom lashes.

NARS Soft Velvet Loose Powder sets foundation, controls oil and smoothes the texture of your skin while giving it a soft-focus finish. Infused with hyaluronic acid bonded powder, the non-drying, innovative formula visibly blurs the appearance of fine lines and pores while wearing comfortably all day. Photochromic technology keeps your skin looking naturally polished in every source of light.

How to use: Use alone or to set foundation and concealer. If using a brush, dip into the powder then tap off the excess powder. Apply to the face using circular motions starting in the center of your face to absorb shine and working your way out until blended. If using a puff, dip it into the powder then tap off the excess powder. Apply by pressing and rolling the puff onto the skin.




then do your eyebrows AFTER THE POWDER
NEXT, dot a tiny bit of eye creme IF YOU NEED IT under your eye on top of the powder.
then SPRAY ROSE WATER lightly on your face.
this is what I use, it's totally awesome
it gives you the most stunning finish you've ever seen,
& believe me, it lasts ALL DAY, ALL DAY !!!
use makeup brushes for all of this,
except the foundation -
that's the moist sponge you
SHOULD USE TO GET THE PERFECT FINISH -
with brushes you get a beautiful finish that is easily blended.
wet sponge, wet brushes, water soluble NARS PRODUCTS
MARIO BADESCU FACIAL ROSEWATER SPRAY
a small spray bottle is under $10
&
I LOVE THESE PERFECT COMPLEXIONS