as I share this lovely recipe with you I cannot resist saying how
HOT IT IS IN HOUSTON, TEXAS !
it is unbearable! & these are the dog days of summer when one wants to be
ANYWHERE ELSE!
it's predicted to be 99f, however, that temperature with our high humidity makes it feel like
a wet sauna/steam bath the moment you are outdoors.
speaking of dogs, keep them all inside, even their little feet burn on the hot pavement.
I take mine out after the late news just so they can roll around in the cooler grass and act like "dogs" for a few minutes.
& me...you should SEE my hair !!!!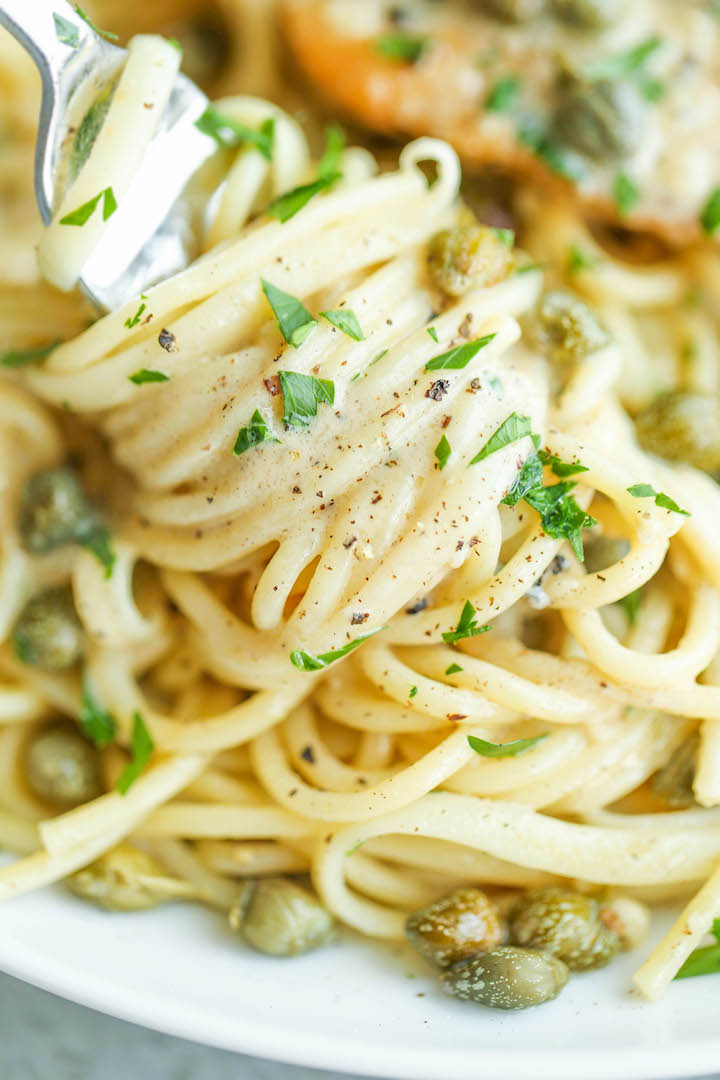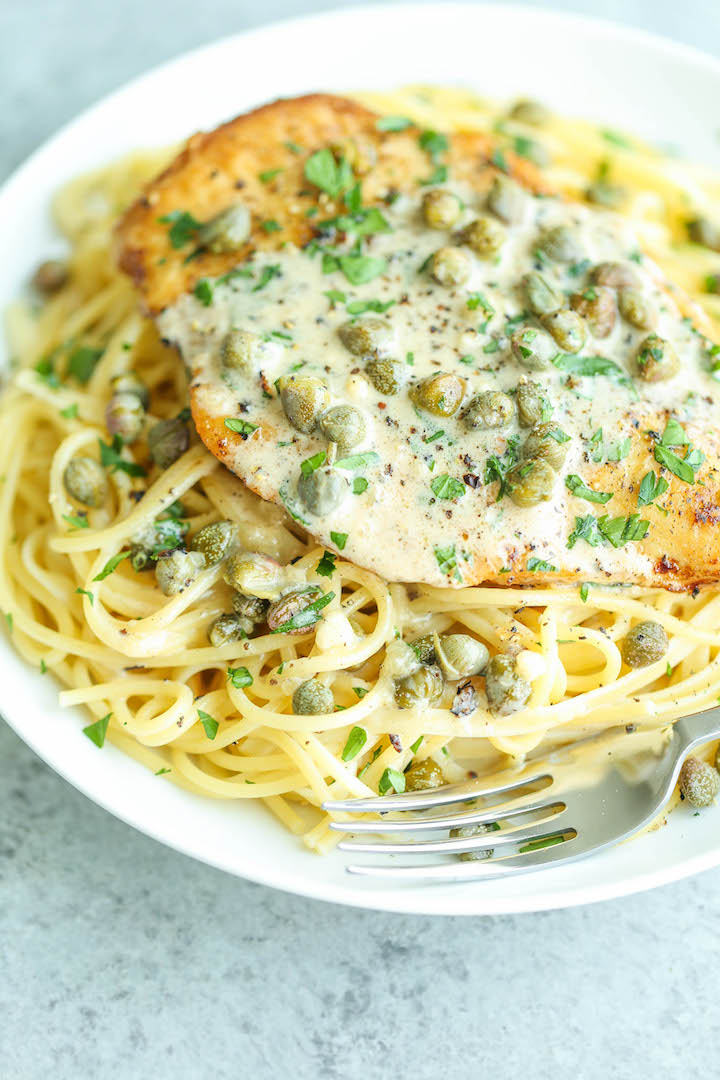 recipe courtesy of DamnDelicious here
know what, I could NOT RESIST these photographs !!!
I wasn't even looking for a recipe, especially not a pasta recipe
(cause I have all of them, I think),
but the pics are simply irresistible so I just had to
check out the recipe, which is below.
it might say it's easy, and that's true, but the list of ingredients were not things I always have in my kitchen,
that's the only beware....
on Friday night past one of my friends and I shared a dish
almost like this one, and it was yummy divine,
my friend even asked for more "piccata" sauce.
INGREDIENTS:
1 pound spaghetti
1 pound boneless, skinless chicken breasts, cut crosswise in half
Kosher salt and freshly ground black pepper, to taste
1/2 cup all-purpose flour
4 tablespoons unsalted butter, divided
2 cloves garlic, minced
1/4 cup diced shallots
3/4 cup chicken broth
1/4 cup dry white wine*
Juice of 1 lemon
1/2 cup heavy cream
1/4 cup capers, drained
2 tablespoons chopped fresh parsley leaves
DIRECTIONS:
In a large pot of boiling salted water, cook pasta according to package instructions; drain well.
Season chicken with salt and pepper, to taste. Working one at a time, dredge chicken in flour.
Melt 2 tablespoons butter in a large skillet over medium high heat. Add chicken and cook, flipping once, until cooked through, about 4-5 minutes on each side. Set aside and keep warm.
Melt remaining 2 tablespoons butter in the skillet. Add garlic and shallots, and cook, stirring frequently, until fragrant, about 2 minutes.
Stir in chicken broth, wine and lemon juice. Cook, stirring occasionally, until slightly reduced, about 5 minutes.
Gradually whisk in heavy cream until slightly thickened, about 3-4 minutes; season with salt and pepper, to taste. Stir in capers.
Serve immediately with pasta and chicken, garnished with parsley, if desired.
*Additional chicken broth can be used for white wine as a non-alcoholic s