the items on the left sidebar are merchandise currently for sale,
just click on the link of go to the appropriate "PAGE" above
I did a little InstaGram post earlier about the
HOT summer days & evenings
calling for FRESH foods and ROSE' wines.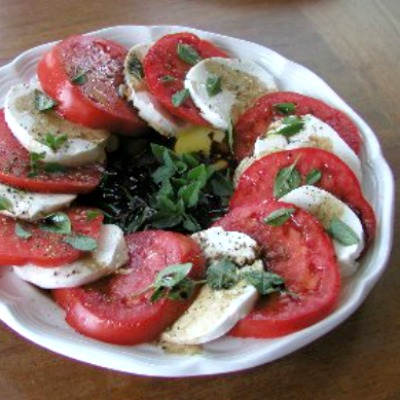 & seriously, who doesn't like FRESH TOMATOES
sliced on a plate, laden with
cheese & herbs, olive oil & balsamic vinegar?
NO ONE !!
it's an art form in itself, isn't it?
& when all of us crave dining al fresco
the simple, fresh foods are what we enjoy most.
for years Rose' wines have been looked down upon,
but somehow they're made their way back up again.
my favorite right now is very inexpensive & very beautiful.
to me, it's crisp & delightfully wonderful, especially during the daytime.
the beautiful dish is from the WONDERFUL
BLISSFUL BASIL blog
you can find ALL the details & recipe here