every time there's a new series of FASHION WEEKS
we see many directions of fashion, some IMPOSSIBLE TO WEAR,
some destined to become major hits.
for me, the look below says so much:
ladylike
happening outfit
mid-length skirt with lots of softness
tweedy jacket with structure
(pairing softness with structure)
EARRINGS have returned bigtime
so go into that jewelry drawer and bring all of them out, the bigger the better
BELTS
beautiful COLOR
of course, the athleisure look is everywhere,
and that's OK with me
as I love the side-striped pant and the
flatter shoes to run around in.
a version of this will go with me to Sorrento later this year,
an outfit from Worth NY I bought last year, navy knit pant & jacket
with the white sporting bands.
seriously, I can make this go EVERYWHERE if I want to.
anyway, back to the shows:
FLOWER PRINTS still ruling
but COLOR COLOR COLOR
color in shoes/bags/accessories AND APPAREL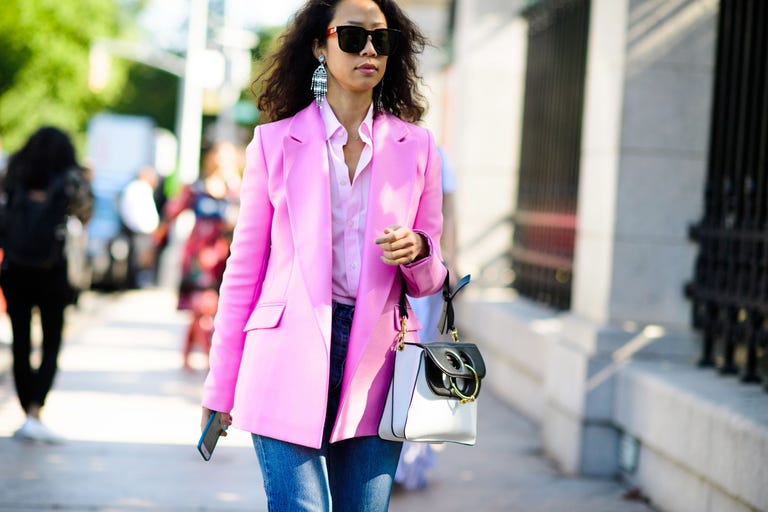 kinda reminds me of the 70's in a way,
but today the LOOK is MUCH MORE RELAXED/CASUAL
the the RUNWAYS WERE FILLED with shapes from the 60's too. & this, of course, means dressier ????
SO? does this mean anything goes?

I'm wondering !
the 60's...remember TWIGGY?
remember David Bailey?
remember Jean Shrimpton?
Moschino did it best with Jackie O suitings which I've been posting on
my InstaGram